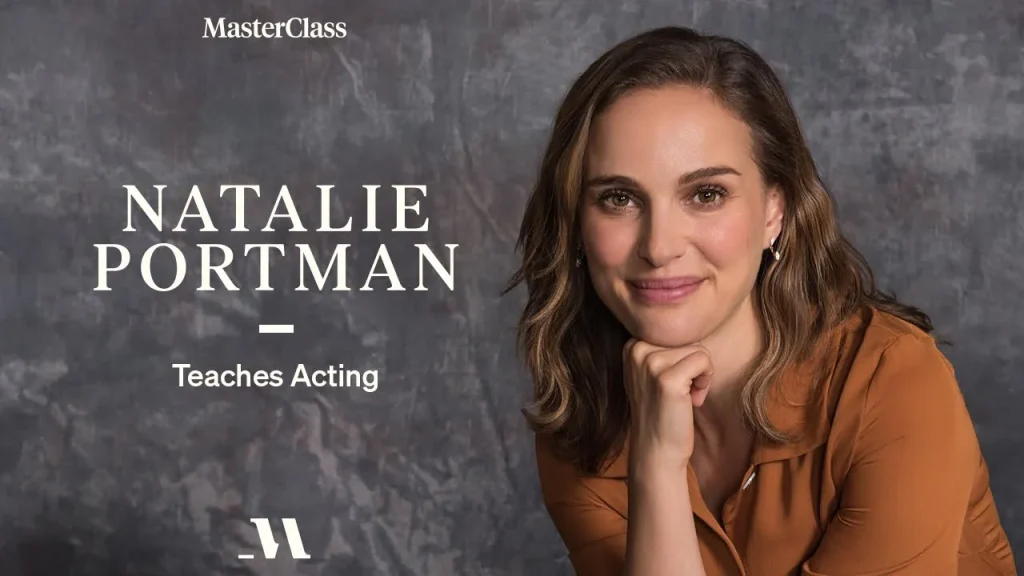 Are you ready to take your acting skills to the next level?

The Natalie Portman MasterClass is now live!

This highly anticipated online course offers an immersive experience that delves deep into the craft of acting, taught by none other than Academy Award-winning actress Natalie Portman herself.

In this comprehensive review, we'll give you an inside look at what to expect from the Natalie Portman MasterClass, including a breakdown of the curriculum, exclusive behind-the-scenes insights, and tips and techniques to help you improve your acting skills.

Get ready to be inspired, challenged, and transformed as you learn from one of Hollywood's most talented and celebrated actresses.

Natalie is an Oscar-winning Hollywood actress, and expert-led MasterClasses are known for being informative and inspiring.
If you're wondering whether Natalie Portman's class is right for you, read on for our review.
In this post, we are going to share our personal Natalie Portman MasterClass review. We will also outline what's in the course, how it will help you with your acting, what homework assignments you should expect, and also what we didn't like about it.
Who Is Natalie Portman?
Born in Jerusalem, on June 9, 1981, Natalie Portman is one of the most gifted and interesting actresses of the 21st century. She made her striking debut at the age of twelve as "Matilda" the iconic orphaned girl in the cult foreign-language thriller "Léon: The Professional".

While still in high school, she gained international recognition for starring as Padmé Amidala in Star Wars: Episode I – The Phantom Menace and received critical acclaim for playing a precocious teenager in the drama Anywhere but Here (both 1999).

She is the first person born in the 1980s to have won the Academy Award for Best Actress (for Black Swan (2010).
Natalie Portman Masterclass: What To Expect
Natalie Portman carefully crafted her course to offer an expert approach through over 25 years in the acting field. If you ever wondered how she got to the top, it's your opportunity, take it.

In this class you will learn:

How to prepare a character
How to map your character's journey
How to build the relationships to other roles in the film
The way you relate to your director
The way you audition
How to Act on a Green Screen
How you can uniquely do your job

In this online course, Academy Award-winning actress Natalie Portman shares her years of experience and insider knowledge to help you improve your acting skills and elevate your craft to the next level. Whether you are a professional actor looking to enhance your skill set, or an aspiring actor keen to develop the craft, this MasterClass can help your career.

We found this course to be relevant not just for actors but for screenwriters and directors as well, as you get an idea of what actors do need to exceed your expectations on the set.
What Is Masterclass?
MasterClass is an online platform that allows you to learn skills from professionals who are titans of their industry. We'd already taken ​the David Lynch MasterClass, the Annie Leibovitz MasterClass + the Werner Herzog MasterClass and loved the value for money we got.
What does the enrollment fee include?
This is what MasterClass provides :

• On-Demand Lessons: Access to every lesson in the class and stream on your own schedule. Natalie Portman MasterClass has 20 pre-recorded video modules, ready for viewing (and re-watching) at any time.

• Downloadable Workbook: MasterClass usually provides lesson recaps, takeaways, and optional assignments in an exclusive downloadable PDF workbook.
Natalie Portman's MasterClass comes with a 28 pages PDF document called "Class Companion Piece" which includes interesting anecdotes as well as useful tips.

• Student Community: Upload your own work, meet other students in your class, share ideas, collaborate and connect in a dedicated forum.

• Office Hours Section: Access to instructor feedback and answers. Periodically, students may have opportunities to submit their work to David. As those opportunities arise students will be notified and given directions on how to submit their work.

• Any Device: Learn on your computer, phone, or tablet. Download the MasterClass iPhone and iPad apps to take your classes anywhere you go.
Leave a comment below to share your thoughts!
RELATED POSTS