Annie Leibovitz MasterClass: We have learned so much and lots of takeaways!
Today we are going to share with you the top 5 lessons learned from this online class.
To be upfront, I was compensated for this post and this post contains affiliate links. I will be compensated if you make a purchase after clicking on my links. Your clicks and purchases keep this site up and running at no extra charge to you. All opinions are my own.

Who is Annie Leibovitz?

Born in Waterbury, Connecticut, on October 2, 1949, Annie Leibovitz is one of the most famous portrait photographers in the world. Her iconic photos have appeared in books, museums and on the covers of hundreds of magazines including Vanity Fair, Vogue, and Rolling Stone.

She was the last person to take a portrait of John Lennon and she became the first American to make an official portrait of Queen Elizabeth II. Some of Annie's most indelible images include Demi Moore's often-imitated pregnancy portrait, President Nixon's last day in office, Yoko Ono, and Lennon's famous "kiss" portrait, Bruce Springsteen's Born in the U.S.A. album cover, Leonardo Dicaprio holding a swan… the list is endless!
Top 5 Lessons Learnt From Annie Leibovitz MasterClass
1. Photography Is An Adventure.
As filmmakers, we tend to be always in control of the situation. We use to plan our journeys very carefully. It's pretty rare for us to go and shoot without an idea of the outcome.

Photography is different.

As you can see in the trailer above, Annie says 'The idea is emanated from that person (the subject)'. To tell a story you first have to discover it, then understand it and finally let her change your perspective.
2. It Is Not A Photographer's Responsibility To Put A Subject At Ease.
Don't hide.
"Reportage Photography" doesn't mean you have to be far away from the subject with a long zoom lens to let your subject relax.

A photograph is a vision. Your vision.
It has to reflect your own world, not "the real world".

This doesn't mean you have to force your subject to succumb to your will.
Photography is an encounter, a moment of exchange.
3. Look Back At Your Work
You can't go back in time, but you can learn a lot from what you created in the past.
Judging your own work can be very difficult. You lose objectivity, you're so in it that you can't see it.
Leave the photos for a while and come back to them, your style will begin to emerge.
You may also regain a bit of that keenness you had when you were fresh behind the lens.
4. Photograph People Close to You, Your Family, Your Friends
This may sound simple but, believe us, it is not.
Especially if you want to tell a story that really means something for you.
This was our favorite lesson. It was really useful and has made us realize a few things about life and work.
5. Don't Let Your Kit Kill Your Creativity.
You don't necessarily need to have an expensive Hasselblad camera to shoot great stills! It's really all about how you see. You have to embrace your limits, or eventually create your limitations, and lean into them. You will be at your best at your hardest time. It's when our back is against the wall and we don't have a lot of options that we MUST focus, think creatively, and breakthrough through new ideas.

Herzog gave a piece of similar advice in his Werner Herzog MasterClass (which we HIGHLY recommend if you are interested in a great – probably the best – filmmaking course).
Recommended Reading: Annie Leibovitz's Books
Annie has written marvelous books about her life and photography. If you haven't read her work yet, pick up any of the following titles. Although not required for course, they will benefit you greatly.
• At Work : The legendary photographer's first-hand account of how she creates her amazing photographs. It allows us to understand her motivations, her family, her career, her assignments, her purposes and how her extraordinary images were constructed. There's also a surprising amount of technical information included (camera, lenses and lighting choices, etc.).
AT WORK
• Hardcover Book
• Annie Leibovitz (Author)
• English (Publication Language)
• 240 pages – Jonathan Cape (Publisher)
• Pilgrimage : an evocative and deeply personal book that everyone told her wouldn't make her any money but which she needed to do. A publication with no celebrities, no models, no V.I.P.'s, but subjects that meant something to her. The lack of actual humans is notable, but for her, the photos are equally representative of people. A very moving book.
PILGRIMAGE
• Hardcover Book
• Annie Leibovitz (Author)
• English (Publication Language)
• 246 Pages – Random House Inc (Publisher)
• Portraits 2005-2016 : Ms. Leibovitz's follow-up to her two landmark books Photographs 1970-1990 and A Photographer's Life: 1990-2005. Throughout 316 pages, Annie brings us 150 handpicked iconic portraits of the most influential and compelling figures of our time. An essential collection.
Should You Take This Course?
The Annie Leibovitz MasterClass is in no way a tutorial. It's not gonna teach you about camera settings or what lenses you should use. If you're just starting out and you are looking for technical tips you can easily find them for free on YouTube.

This MasterClass is a documentary/interview where Annie talks about how she sees things and why she took certain pictures. We decided to embrace this photography course for what it is: another great opportunity for personal growth.

If you are looking for creative inspiration and you want some insight from a professional photographer that spent the last 45 years photographing famous people, then give this MasterClass a try. You've got nothing to lose (MasterClass has a 30-day money-back guarantee) and a ton to gain.

Enrollment now is officially available for this MasterClass.
This MasterClass Will Motivate You To Push Yourself. It Will Take You Beyond The Technical And Into The Art Of Photography.
What does the Annie Leibovitz MasterClass include?
Once you purchase the class, you have access to the following:

• 15 lessons in which Annie teach you everything she knows about portraiture
• Lifetime access, with classes that never expires
• Interactive exercises
• Dedicated forum where you can upload videos to get feedback from the class
• Exclusive learning materials and a downloadable workbook with chapter recaps and important takeaways
• "Office hours" section where Annie answers selected student questions

Interested in joining this MasterClass?
RELATED POSTS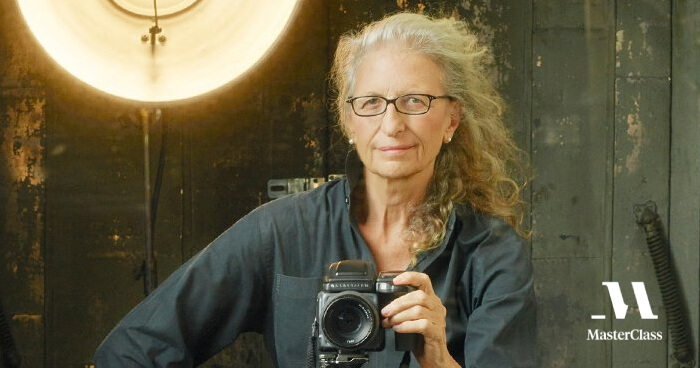 Annie Leibovitz MasterClass