Improve Your Script: 7 Questions with Best-Selling Author Geoffrey D. Calhoun
Geoffrey D. Calhoun is an accomplished screenwriter and script editor. He is listed as a Top 100 indie writer in the world and his methods are now available in 'The Guide for Every Screenwriter', a 132-page compendium book that peels away the mysteries of the craft. He has won multiple screenwriting awards and has worked as a writer and script consultant on several film productions.

Geoffrey is also the founder of WeFixYourScript, a fantastic service where he provides his clients with great feedback to better their screenplays. In between writing his own screenplays and saving someone else's, he sat down to talk to us about everything from routines to films.

Geoffrey, there is a lot of information about you on the web, but nothing about the man behind the scripts. What do you do on off-days?

I'm a family man first and foremost so it's mostly finding ways to spend quality time with my wife and son. I am a cinephile as well so I will make whatever excuse I can to sit down and enjoy a good tv show or feature. I am totally guilty of binging great television and then telling myself it was purely for research purposes. Aside from that I work out pretty heavily and will indulge myself with a video game or two. However, that is getting rather difficult as I put in 60-80-hour work weeks with regularity.

Do you have any daily routine that you follow?

I'll get up late into the day around 10ish. I didn't use to be this way. I was an early bird for most of my life. But once I discovered that I was far more productive and creative with my writing at night then it became very common for me to stay up until 2-3 in the morning writing. Now sleeping in late is how my body has adapted. I can't say it bothers me too much, but my days do tend to fly by now. I find myself trying to truly savor sacred moments as I fear they fade so quickly.

What do you love most about your job?

So many things! I love the process of taking a blank screen and filling it with an amazing journey which a character struggles and evolves through. That to me is magic. I also love to teach screenwriting. It's such a great feeling of helping someone as they hone their craft. I feel honored to be a part of their journey.

I also love fixing really challenging scripts. I really do. I can't tell you why. Most writers would get frustrated at trying to fix someone else's work or having to do a rewrite on a difficult project. I love the challenge. It's like the ultimate puzzle box. I light up at the opportunity to solve it.

Heart versus marketplace. Should you write what you're passionate about and nothing else or should you read the trades and try to figure out what certain segments of the market may be looking for at a particular time?

It depends on what you want. I tend to do both. If I am looking to get a script made and optioned then I will do heavy research on the market, the genre, the budget I want to work in, and the type of directors/producers currently working on those films. No one will make you succeed but you. So, you have to set yourself up with the best possible chance of success. Otherwise, you are wasting your time.
Now if I want to just write something because I have a story burning inside me then I will do so. That way I still get to really stretch my creative muscles and let my deepest stories breathe to life. When I do this, I don't typically expect them to be ready for the marketplace. But then again it's always a safe bet to enter those types of scripts into a competition and see where they fall.

Tell us more about the services you offer, what makes WeFixYourScript stand out from the competition?

With WeFixYourScript.com, you partner with a professional screenwriter who is actively working in the business. This allows us to offer total support to the independent screenwriter and filmmaker by an expert. From our one on one consultations and in-depth notes to cleaning and polishing script, and rewrites. We can even create a synopsis, treatment, or look book for you. We pride ourselves on elevating our clients' work to the next level. With us, you get more than a "script doctor" you get a professional screenwriter who is invested in your success.

What's been the most important skill you've developed on your path to screenwriting?

Patience. It took me a while to realize that screenwriting is about the long game. Anything in this business takes time. Once I accepted that this was a lifelong journey then I was freed to really allow myself to fall in love with this craft. A weight had lifted off me. Then I began to research and truly study screenwriting. This changed my life and now I am on a path to truly help others learn and master this craft. I get to witness screenwriting change someone's life firsthand as it did mine.

What is something you would want a young scriptwriter to take away from your book "The Guide for Every Screenwriter"?

It's funny you ask because I just got off the phone earlier with a young screenwriter who took a class on the subject in college and left more confused than when he started. He knew he really enjoyed the craft, but the class didn't help him actually learn how to become a screenwriter. He told me after reading my book he finally understood what to do and then he dove in. It was a way for him to access screenwriting in an easy-to-understand way. That was the goal of this book. I wanted to take one of the most difficult things to learn and present it in a way that not just easy to understand but fun to read as well. Having been able to affect a young reader like that leaves me speechless and filled with joy.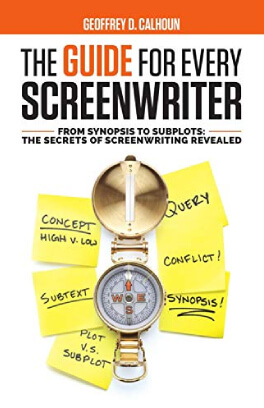 Want to learn more about WeFixYourScript? Visit the official website.
Improve your script today, a free 15-minute consultation is given on all first visits.

Please note some of the links in this post are affiliate links, and at no additional cost to you, we will earn a commission if you decide to make a purchase or use a service. Understand that we have experience with all of these services, products, and companies, and we recommend them because they're extremely helpful and useful, not because of the small commissions we earn if you decide to buy something.