Looking to screen your film for free to a London audience?

If you have made a short movie and would like to see it on the big screen with free entry for your friends, cast, and crew, then you've come to the right place!
In a previous blog post, we explored effective strategies to reach audiences through horror film distribution. Today, we will showcase the remarkable project called Cinebooth and explore alternative methods to screen your film in London at no cost.
Introducing Cinebooth
Prepare to be inspired as we introduce our special guest, Harry Joao Woodford, CEO, and director of Cinebooth.

Through Cinebooth, filmmakers have the unique opportunity to screen their films and connect with like-minded creators, introducing themselves and their work to a fresh audience.

The best part? All of these incredible opportunities are accessible free of cost, empowering filmmakers to expand their reach and gain exposure.

Where's the catch?

There's no catch. There are no hidden costs, no deadlines whatsoever.
So keep reading, in this post, you'll learn how it works directly from the founder.
Harry, can you briefly describe Cinebooth?

Cinebooth aims to change the general public's perception of indie cinema.

London has some cinemas dedicated to showing independent films. However, these cinemas often focus on featuring award-winning films from festivals and other nominations. This is understandable because cinemas need to attract audiences to purchase tickets.

But at Cinebooth we value all the hard work of those that did not win all these festivals and nominations and could only afford enough money and time to make a short film. We find it an utter shame to let these talented people only be known on YouTube or Vimeo with little to no recognition.

This year, we have been running events and have noticed that members of the general public leave our screening nights with much bigger smiles than when they see yet another Disney remake! We believe we have found the secret to making short films enjoyable, and we will keep running events like these until the day we can open our own short film cinema in London.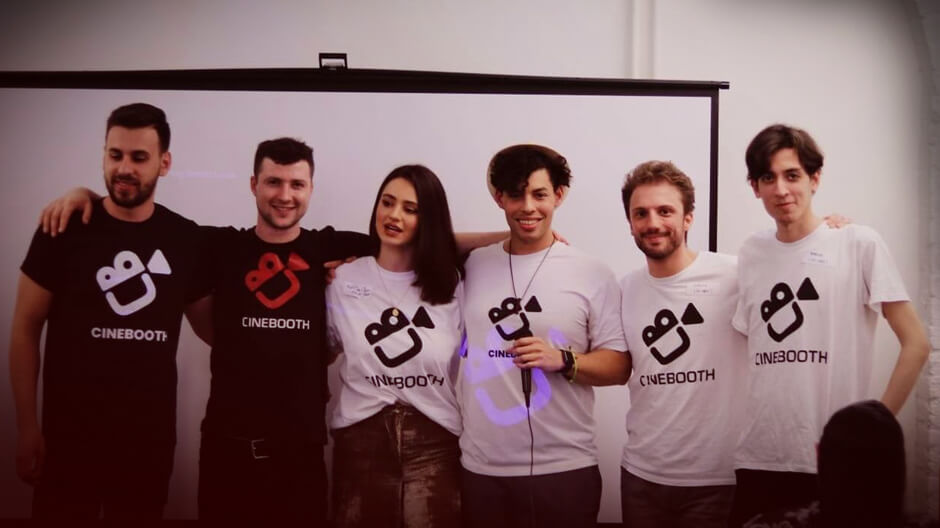 Meet Harry: The Man Behind the Idea
Could you tell us a little about your background?

I spent most of my life growing up in Spain and working in many jobs related to customer service and hospitality. I started off as someone who rented out sunbeds on the beach to become a waiter, a bartender, a TEFL teacher, a personal gym trainer, a hotel entertainer… You name it! But my core has always been entrepreneurial and therefore I knew that stepping into London would be the place to gather inspiration to start something remarkable.

Upon arriving here, I faced some struggles: I sofa-surfed, I worked 3 jobs at one stage and I had also 2 near-incapacitating knee surgeries… Yet, I still did not give up and refused to fly back to Spain to my family. Then after 3 years I finally got what my parents would call a "real job" while working in an office as a web developer and graphic designer, Monday to Friday, from 9 am to 5.30 pm.

How did you get started?

After years of trying to climb my way up from zero academic qualifications to having an office job that would normally require going to a university, I rather felt like I hadn't unlocked my full capacity and there was way more to give.

The story was that during the time of Avengers Infinity War coming out in the cinemas, there was this idea that struck me whilst thinking of treating my girlfriend to some fun film nights, with a projector, to go and watch every episode leading up to the final installment of the saga.

Then the following year I felt the urge to build something of my own and cinema had always been my escapism after constantly facing repeating boring days and seeing the same miserable faces, stuck at a desk. So I looked into setting up a cinema and as I dug deeper, after realizing how corrupt the whole industry around films was becoming, I could not help but fall out of love with my very own idea.

What motivated you to get started with Cinebooth?

Cinebooth suddenly was in the making, but I wasn't quite sure just what it was yet. I knew I was disgusted by all these big corporate businessmen running the film industry and I eventually grew curious as to what goes on with filmmakers, actors, and all the other cast and crew before even making it to Hollywood. So I attended events only to find folks I felt far more connected with than the office staff I worked with on a daily basis. I saw their passion, their goals, their struggles, and the difficulties of constantly having someone telling them to "just get a real job" but above all, l saw talent I never thought someone could have unless they were part of a big studio like Disney or Warner Bros. So I thought incessantly about how to stop these incredible people from giving up on their dreams and how to provide the recognition they deserve.
Submitting Films to Cinebooth
Filmmakers can submit their work by sending Cinebooth a link via email with their film, contact information, and any accompanying material (press kits, synopses, bios, etc.).

Films must be at least 1 minute in length and no longer than 25 minutes, including credits. We have no forms and charge no fees to screen your film.
Tell us more about your mission.

My main task, for now, is to keep running my two types of events:

1) A networking event – to help people find like-minded individuals to collaborate with, giving them a mic to pitch their projects alongside a screen to show their showreels, trailers, slideshows or even audio files for composers.

2) A screening event – which is the closest to the final goal of Cinebooth, which is projecting indie short films – that have been submitted to us – onto a big 3m widescreen with our own devices.
Our mission is to change the way the general public perceives cinemas and more precisely indie shorts and to change the whole industry in order to open even more opportunity doors to the independent cast and crew community.

We believe that screening short films daily on the big screen to the general public will not only promote and financially support short filmmakers, but also allow them to learn and grow from observing the audience's reaction. And who knows who might be watching their films one day, maybe someone who could potentially hire them for a big blockbuster!

What are your goals for the future?

So how can we grow into this cinema one day and how would it even work? Well, for now, we know that if we keep growing with our events and create a large enough crowd base, our concept will become more realistic. We do not charge at our events because it fits the whole philosophy of helping the community without leaving them any shorter most of them currently are out of pocket! We know that through social media if we grow enough, we could achieve sponsors to financially support our growth until reaching a comfortable state to invite investors into our events to verify what we're all about. Great ideas on paper are never enough, but in our opinion, a room of over 100 people twice a month is definitely something to be taken seriously. We know it can be done because I was warned that with any event these things take time to even have one person show up but thanks to our hard work, stubborn dedication, and passion we've grown each time to the point we had 70 attendees by our 5th event and ended up needing to move into a bigger venue already. Our recognition has increased vastly and several film festivals have reached out to us already to collaborate with them. So if all this has been accomplished in just 2 months, we can't wait to see what 2020 holds for us!

Where can we go to learn more?

As mentioned above, if you're part of the film community then please follow us and like us on both Facebook and Instagram to help us grow! This isn't just another meeting group for a few beers and random films. Our mission is far greater and deeper, we truly want to revolutionize the way the mainstream spectators understand short films and give everyone, from graduates to veterans in the indie community, a chance to have their work shown to a larger audience, on a screen larger than a living room wall!

So we invite all of you in the film community to spread the word, visit our website, and… Let's make this happen together! From 2020 less talent will be lost and more fantastic work will be seen, by more eyes!
Other Ways to Screen Your Film in London for FREE
UPDATE: This blog post was originally written prior to the COVID pandemic, and now, several years have passed and it appears that Cinebooth has reduced the number of events. For this reason, we have decided to add new potential methods for screening your film in London for free.

Here are some options:
1. Contact Film Festivals.
There are several film festivals in London that accept submissions and offer free screenings. Some of the popular ones are the BFI London Film Festival, the Raindance Film Festival, and the London Short Film Festival. You can visit their websites to find out about submission guidelines and deadlines.
2. Community Venues.
Many community venues such as libraries, community centers, and parks offer free space for film screenings. You can approach these venues and pitch your film to them. If they like it, they may offer to host a free screening for you.
3. Pop-up Screenings.
You can organize your own pop-up screening at a public location such as a park or a street corner. You will need to obtain the necessary permits and equipment for the screening, but it can be a great way to showcase your film to a large audience for free.
Regardless of which option you decide to go with, we'd love for you to share and promote your film screening on our dedicated Facebook group, London Film Events. It's a great community of film enthusiasts and we're excited to see what you have in store!
Your Opinion Matters
We hope you've enjoyed reading this article and learning about Cinebooth and its mission to bring indie short films to the forefront. Now, we'd love to hear your thoughts! Have you attended a Cinebooth event, or have you managed to screen your film for free? Share your experiences in the comments below and let's revolutionize the world of short films together!
Join The Crew
Join our FREE Facebook group of over 8000 passionate filmmakers and film enthusiasts today and unlock a world of networking opportunities, creative collaboration, and endless possibilities to bring your films to life!
LATEST POSTS